New Year's Eve

DEC 31ST
Join us at Five Sails and ring in 2024! Our Chef Alex Kim has created a decadent menu that encompasses the best of the season! As always, the menu finishes with an exquisite dessert creation by Chef Daria. Be sure to book now as space is limited.
EARLY MENU | 4:30 PM TO 7:00 PM | $125
GALA MENU | 8:00 PM TO 10:00 PM | $175
About Five Sails
Five Sails is located on the "R" level of the Canada Place Convention Centre adjacent to the Pan Pacific Hotel. We have a bright, contemporary space where diners are surrounded by floor to ceiling windows. Enjoy the breathtaking views of Stanley Park, Coal Harbour, Vancouver's North Shore, the Lion's Gate Bridge and our World Class Ski Hills.
LOCATION
R LEVEL
410 - 999 CANADA PLACE
OPEN DAILY
MON - FRI: 11:30am - 9:00pm
SAT & SUN: 5:00pm - 10:00pm
WEEKEND AFTERNOON TEA: NOON - 2:30pm

The Five Sails Beverage Program
Five Sails only offers the most premium spirits, local and imported beers and bespoke cocktails. Our unique wine program is curated by our talented sommeliers offering the best of British Columbia and the most celebrated labels from around the world.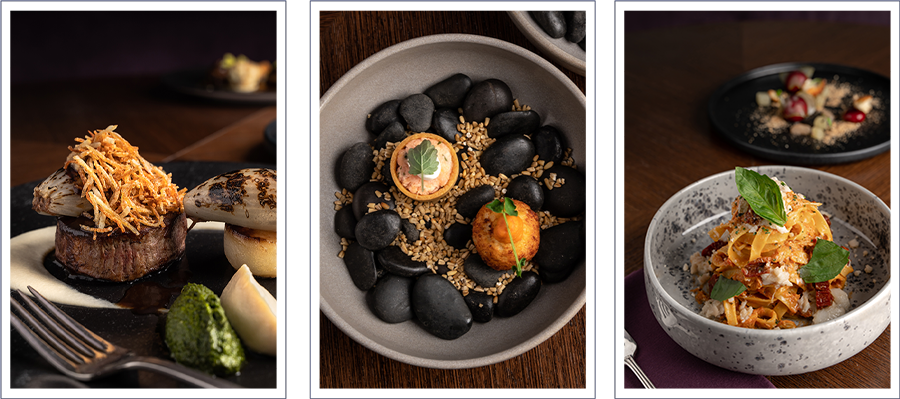 Award Winning Cuisine
Five Sails has award winning cuisine crafted by a team of professionals at the forefront of Vancouver's hospitality scene. Our team delivers a fine dining experience in a charming and relaxed atmosphere. Where the city meets the harbour and the land meets the sea, Five Sails creates an unparalleled dining experience. Enjoy exquisitely prepared West Coast fare while you drink in the breathtaking waterfront views.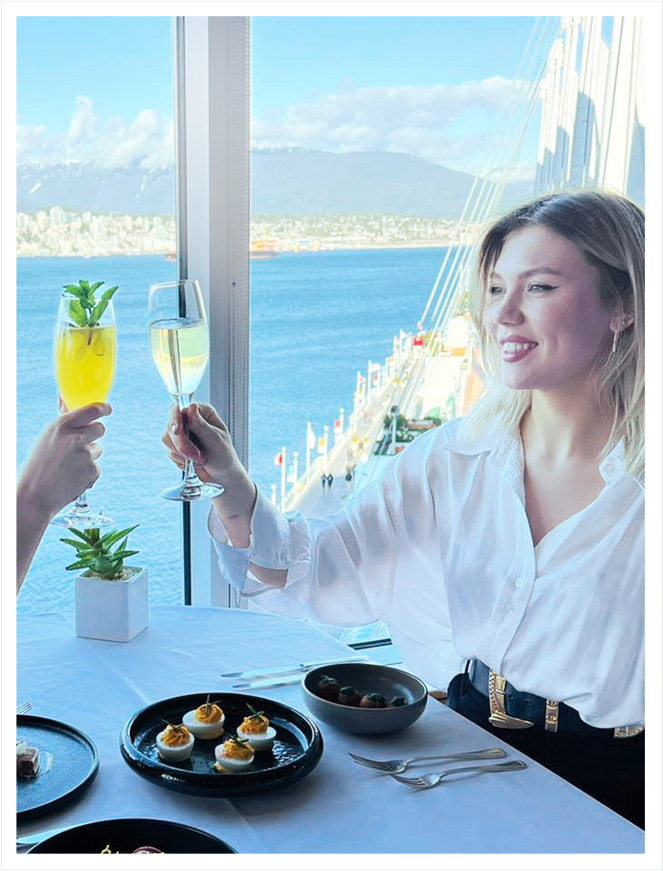 Events
MAIN DINING ROOM
139 Guests
PRIVATE DINING ROOM
20 Guests
Private Events
MAIN DINING ROOM
139 Guests
PRIVATE DINING ROOM
20 Guests
---
Events At Five Sails
Five Sails has successfully hosted large events including weddings, anniversaries, corporate events and Geo-Political summits. Our professional staff are consummate hosts, ensuring guests' expectations are not only met, they are exceeded. Five Sails can tailor your special event with features such as custom sound and lighting, logos and banners, playlists, themes and dining experiences. We are happy to work with guests and/or event planners to create the perfect experience for all attendees.
CAKES FOR EVERY OCCASION

DINE IN OR PICK UP
Be it a birthday celebration at Five Sails or a staff appreciation treat at the office, we offer five stunning whole cake options that will wow every time. Each cake is hand crafted to order by our Pastry Chef Daria Andriienko.

48 hours Notice required. Pick Wednesday to Sunday.
FESTIVE AFTERNOON TEA
SAT & SUN | NOON TO 2:30PM
$65 PER PERSON
Enjoy our exquisite Afternoon Tea with a special festive twist every Saturday and Sunday from Noon to 2:30pm. Drink in our stunning views as you savour an elevated high tea by our award-winning culinary team.

LOCATION
R LEVEL
410 - 999 CANADA PLACE
OPEN DAILY
MON - FRI: 11:30am - 9:00pm
SAT & SUN: 5:00pm - 10:00pm
WEEKEND AFTERNOON TEA: NOON - 2:30pm

GIFT CARDS
Glowbal Restautant Group Gift Cards are available at Five Sails
CONTACT
604-844-2855
INFO@FIVESAILS.CA
@FIVESAILSVANCOUVER
RESERVE
LEARN HOW WE ARE KEEPING YOU, OUR STAFF, AND OTHERS SAFE IN REGARD TO COVID-19